One of the most common problems for pregnant women is the development of stretch marks. Although stretch marks aren't medically an issue, most women don't like permanent white marks and lines on their bodies as a reminder of pregnancy.
If stretch marks aren't removed within the first 6 weeks of appearing they can only be lightened, not removed. This is the reason why it's so important for a woman to choose a stretch mark cream that works well.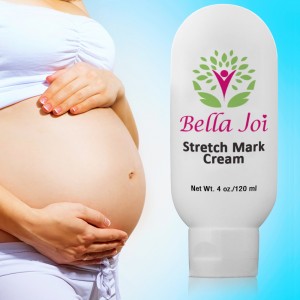 This month we are looking at the Bella Joi line of products.
  Bella Joi Stretch Mark Cream Review
For those who have always been up-to-date with the different products then there is a big chance that you might have already heard about Bella Joi Stretch Mark Cream.
The question to answer in this review is this:
Does Bella Joi Stretch Mark Cream really work?
This review will help you know if this product is right for them or not.
Information about this Product
A naturopathic doctor formulated Bella Joi Stretch Mark Cream specifically to help pregnant women with their stretch marks.
It is produced by Bella Joi, a USA-based beauty company, which has a full line of skin care products. It is produced in an FDA-approved laboratory facility in the USA.
It contains the three best butters to soften the skin – cocoa, shea and mango.
It works on both red stretch marks and white stretch marks but takes longer to work on white stretch marks since they are older.
As seen in the label and on its product page, the anti-stretch mark cream contains the following ingredients:
Caprylic – This is known for its ability to moisturize the skin without giving you the oily and greasy feel.
Aloe – As proven by various studies, this component is very powerful antioxidant. It also has anti-inflammatory properties.
Shea Butter – A very popular staple in skin and beauty products, it has amazing antioxidants to help decrease skin dryness.
Olive Oil – One of the oldest beauty fixes in the world, it is very popular for its essential acids that can help moisturize and revitalize dry and damaged skin.
Cocoa Butter – Stretch marks result from the skin's loss of elasticity. This is what cocoa butter addresses. It promotes the production of collagen.
Jojoba Oil – This oil is known to help repair skin damage.
Mango Butter – This is a very popular butter that has powerful anti-inflammatory properties.
Rose Hip Seed Oil – Targets the stretch marks directly by making them less visible.
According to the naturopathic doctor who formulated this stretch mark cream, this specially formulated stretch mark cream can bring back the skin's elasticity to help get rid of old stretch marks while preventing the formation of new ones.
Does it Work?
YES. It can remove new stretch marks and works wonders even on old, stubborn stretch marks.
Aside from this, it is also very easy to apply and there is no greasy feeling at all. The consistency of this cream is very good. It is thick, but not greasy. It is safe to use even while pregnant.
This stretch mark cream is effective and affordable and for anyone who wants to get rid of stretch marks.
Effect on Old Stretch Marks
While creams are best used on new stretch marks this one does have a good effect on old stretch marks. It lightens and fades them so they aren't as visible.   Results on white stretch marks will not be seen right away, but they become less visible after some time.
Testimonials and Customer Reviews
There are a lot of positive reviews about Bella Joi Stretch Mark Cream. It's good to know that many people have seen good results after using it.
Sherry Farthing says:
"I have very large stretch marks. They hurt and itch. I have tried everything to get some relief and make them look better. A friend recommend this product and I am so very glad I took her suggestion. It has helped me a lot and my skin feels great."
Another review, this one from Patricia Carpenter:
"I had been using another stretch mark cream, but was seeing very little results. I was unhappy because I was paying a high dollar amount and seeing no difference. I decided to give this brand a try… firstly because it was a good price and I didn't want to get sucked into a pricy cream that I didn't like. I was shocked. I started seeing results in 2 weeks. 6 weeks later and you can barely tell i eve had any stretch marks."
What Else You Need to Know
With stretch marks, the longer they are on a woman's skin the harder they are to remove. While they can be permanently removed within the first six weeks of appearing, after that they become permanent and can only be lightened and faded using over the counter creams.
Another thing to know is that there are different types of skin types, because of this, the results may vary from one person to another.
From the reviews it seems that most people see results on new stretch marks within the first few weeks of use. For old stretch marks it takes three weeks or more to start seeing results.
Final Verdict
A Good Buy. Bella Joi Stretch Mark Cream really works to lighten old stretch marks and prevent the formation of new ones. It is one of the best creams in the market today. Aside from being highly effective, it is also very affordable.  Click here to see more or to purchase on Amazon.