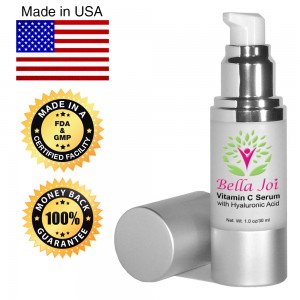 This month we are reviewing the Bella Joi line of skin care products.
If you are one of those beauty aficionados that always stays up-to-date with the new products making waves in the beauty industry, then you probably already know about Vitamin C Serum with Hyaluronic Acid by Bella Joi.
Many people try to find the best beauty fixes that will help get rid of problems such as wrinkles and fine lines. This is quite understandable especially nowadays when looks and beauty are important and let's face it, no one wants to look old. The problem is that there are SO MANY products in the market today, and they all promise so much. It's hard to wade through all the noise to find out which products are good and which products are not.
So, the million-dollar question is:  Is Bella Joi's serum any good?
Let's take a look and find out.
Information about this Product
Vitamin C Serum with Hyaluronic Acid is produced by Bella Joi, a US-based beauty company with a line of skin care products.
According to the makers, this product was made to help reduce the risk of premature aging of the skin. Moreover, it can aid everyone in making their skin more radiant and young-looking.
Key Ingredients
As seen in the label and on its product page, the serum contains the following ingredients:
Vitamin C – helps promote collagen production and stop wrinkles from forming. It has been proven to be a good anti-aging component for the skin. It is said to help reduce wrinkle formation as well as the appearance of skin discolorations to make the skin brighter.
Hyaluronic Acid – Makes the wrinkles you do have less noticeable. It is known to help boost the skin's moisture content.
L-Arginine – This is a type of amino acid that possesses the powerful properties of antioxidant.
Glycerin – This is popular in hydrating the skin to make it soft and silky.
Jojoba Oil – This is a type of oil that can help boost collagen production to maintain skin's elasticity and integrity.
Does it work?

Yes. It can help dull skin by reinvigorating it so that it will become brighter, healthier and more radiant. It can help make skin appear up to 10 years younger with continued use.
Another thing to love about this product is that it is not greasy. This is one of the most important considerations for many users because many are not fond of products that are too heavy and greasy on the face. It is noticeable that the serum is easily absorbed by the face compared to creams. There is also no greasy and oily feeling.
The last thing that is important to point out is the results it made for wrinkles and fine lines. Just like in any product, it is unreasonable to expect wrinkles to be gone in just one application. Vitamin C takes time to work. Even Dr. Oz says it can take up to 8 weeks and sometimes more to see results with a topical vitamin c but that the results can be incredible.
Users will experience a younger-looking skin without having to undergo drastic procedures or buy expensive products that aren't as effective.
Testimonials and Customer Reviews
As mentioned earlier, there are a lot of good reviews for this product, just like this one review by N. Harrington:
"I want to recommend this serum to everyone because I have experienced it myself. This is the only Vitamin C serum that worked really well for my skin, which was very dry and dull. After using this serum for one month, I can already see the improvements. I now have clearer skin, my acne marks are almost gone, and my fine lines are gone too. If there is a beauty product that I can use for life, this is it."
Another review, this one by Annette Gonzalez:
"This is an honest review for this product. I'm now 58 years old and I can say that I have tried a lot of different skin products. I can honestly say that this product is the best thing ever.
* It helped my wrinkles and fine lines disappear
* It gave my skin a healthy and natural glow
* My skin feels softer now
To be fair, you should not expect results in just one night. If you want to see the results, you should use it regularly."

What Else You Need to Know
One thing to know is that since there are different skin types, the results may vary from one person to another.
For example, it can take a couple of weeks for some people to see results while for others it can take a couple of months. With vitamin c serum the results compound over time which means that your skin will look better and better the longer you use it.
Final Verdict
A Good Buy. Vitamin C Serum with Hyaluronic Acid by Bella Joi is a good buy. It can help users to achieve a smoother, clearer and younger looking skin. If you are looking for a good anti-aging product for your skin this one is affordable and works.